Interview with Hugo Machefer, from Full-Stack Developer to Technological Expert at difuze
difuze: Hello Hugo, we know about your expertise in technological and digital tools, but can you briefly tell us about your career path and your arrival at difuze as a Full-Stack Developer?
Hugo: Hello Fatine. For more than 20 years, I have been working in the media industry and more specifically in digital technologies to create powerful tools to develop access to audiovisual content. I was welcomed at difuze in 2019 after LVL's closing, where I had been working since 2017 (difuze's technology provider). With Difuze I now have the chance to continue my work on the development of difuzego.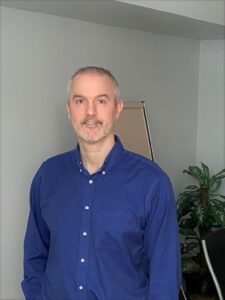 difuze then internalized all the development processes for difuzego. With the initial development of the modules Find, Share, Deliver; and the recent addition of new modules Publish and Archive, Hugo has taken on the role of Full-Stack developer, under the Jean-Sebastien Rouette's supervision.
difuze: What growth opportunities have you experienced at difuze?
Hugo: After working mainly on difuzego, I was approached to coordinate the development of one of our other products, difuzevox. This automated Audio Description solution needed centralized management and an internal resource to unify the work between our employees and our technology partners at UDM, based in India. In accepting the position, I realized how challenging and fulfilling it was to be at the center of difuze's technology development operations. The position of Technology Expert now allows me to oversee the success of the final project. Being part of a team that welcomes initiatives, also allowed me to bring the idea of using the back-end environment of difuzego to build difuzevox. This way, all our collaborators are in control of the application – something beneficial of our customers.
Hugo also managed to put his experience with Amazon Cloud to effective use! DIFUZE GO and VOX are now based on the Amazon Cloud, to the benefit of our customers.
difuze: With these new responsibilities, how do you see your collaboration with difuze employees? 
Hugo: Certainly, the technical tasks are still present in my new role, but I also can be a support for my colleagues when the need arises! difuze is first of all a family of experts. I want to accompany them as best I can to untangle situations and ensure understanding of the processes while managing the issues that arise daily. I am particularly happy to be able to pass on my passion or this work through this new role.