Innovation in times of crisis: difuze develops a technique to facilitate remote recording
Faced with the COVID 19 crisis, the audiovisual industry has had to face major challenges when it comes to providing versioning and voice-over services to their clients. difuze has risen to the challenge by developing an innovative remote recording technique for actors and voice directors.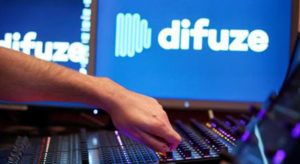 wake of the Quebec government's shutdown announcement on March 25th, difuze, (Canadian leader in audiovisual content packaging, versioning and delivery), faced a major problem: how to continue providing its versioning services to clients when their recording studios were closing?
The solution quickly became obvious: remote recording.  Already used in the context of ADR (automated dialogue replacement), this technique allows for studios to record voices with partners around the world.  By using this same method, one could connect the sound engineer, voice director and actor in order to record soundtracks remotely, all the while preserving studio quality results.
An internal team was quickly assembled and, after several attempts, found the solution; connecting all participants via an internet link.
"Everything is done over the Internet without needing to install any software, and the security requirements of our clients are still met" explains Isabelle Favreau, Manager, Audio Post-production, "All the material used is placed on secure disks and a single session is installed on production computers. All IP addresses are also protected."
In this way, the sound engineer controls the recording at a distance, and the actor can install the session configuration on their home computer.  The voice director is then linked-in to direct the recording.  (When necessary, difuze sends recording equipment to the actors – microphones and insulating screens).  All participants see the same image on their screens and can hear one another – just as they would in studio.
From voice over to synchronized dubbing
Although several of difuze's recording studios are now open, voice directors continue to direct voice-over sessions remotely in order to facilitate safe distancing requirements on site.
President François Deschamps: "difuze believes in giving directors the opportunity to continue to work regardless of their age or health, thereby eliminating the risks they might encounter if they had to work on site.  It benefits everyone."
Synchronized dubbing sessions are also recorded using the same process, for the same reasons. The team has developed a way to send a rhythmo-band signal (which scrolls the actor's script on screen) in order to record synchronized dubbing sessions remotely.  The results are impressive. So much so that this technique is used for the dubbing of major fiction series.
Beyond performance, ensuring quality
Remote recordings mean that difuze's sound engineers must pay special attention to sound quality. They only issue to date when recording with this new technique is the engineer's ability to account for variation and volume intensity in the context of the recording for fiction series.  (Under normal circumstances, the engineer makes these adjustments on the spot).  Once again, difuze's innovative team was able to rise to the occasion, providing internal solutions in order to resolve the issue.
difuze's team, comprised of François Deschamps, Isabelle Favreau, Gaël Poisson-Lemay, Richard Fecteau, Pierre Paquet and Philippe Hamelin, have once again helped difuze position itself as a pioneer in innovative practices, helping the company continue to meet the needs of its clients during challenging times.